Geriatric Dog Care
For the Older Dog in Your Life

The best  geriatric dog care you can give your older dog, is one that  provides specialized (and usually preventative care) to extend the quality of your best pal's life.  After all, you've been through thick and thin with him, I'm sure you just want to keep him fit and active for as long as you can.  
The key to achieving that, is knowing the warning signs that helps detect illnesses early, many of which can be cured, reversed, or at least slowed down.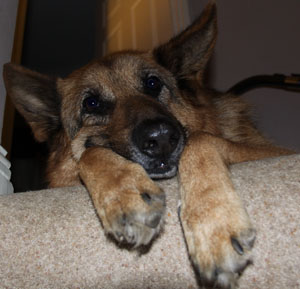 Just like us, dogs experience certain common illnesses once they get older. 
They age quicker than we do but suffer many of the same age-related conditions. 
Unfortunately they can't tell us about their aches and pains but may do so subtly, if you just know what to look for.  

Many illnesses common in older dogs can be reversed or at least slowed down if we can get to them early enough.  Some can be minimized or prevented entirely. 
So, let's look at what to look out for with older dogs and determine at what age they are considered "geriatric".
---
A Dog's Relative Age

But before we get to that, you need to know at what age your dog is considered a geriatric or even a senior for that matter.  And yes, there is a difference!  Basically your dog is a senior once his relative age is in his mid-40s.  He is considered geriatric when his relative age is in the 70s upwards.
Relative age simply means a canine's age relative to human years. The general rule of thumb is that dogs age seven years to our one but that is pretty inaccurate most of the time as not all dogs age equally.
Research has shown that the age of a dog (relative to humans) depends on breed, health, genetics, activity level, but most of all, it depends on their size.  

Here is a great chart that shows the age at which dogs are seniors and geriatrics dependent on their size.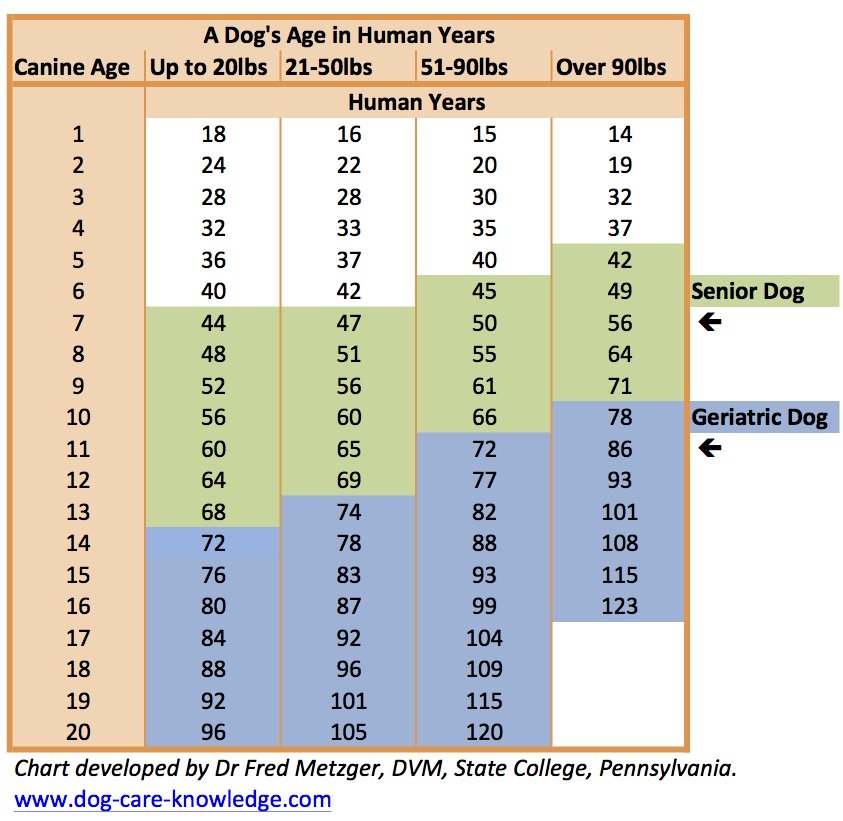 As you can see from this chart, small dogs, on average, mature faster and have a longer lifespan than larger dogs. The average lifespan of dogs in general is 13 years.  But don't be too despondent if you have a large breed dog, (like I do) these numbers are only guidelines and there is plenty we can do to extend the lifespan of our dogs.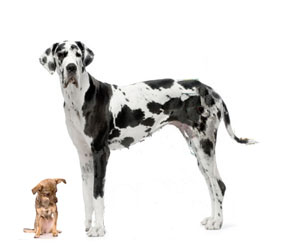 Providing your dog the best possible care throughout his life is the number one factor in achieving good health.  Being vigilant during their senior years will catch any potential health problems in the early stages.  In the case of the geriatric dog, prevention and early diagnosis is key. 
Although dogs don't reach geriatric status until they are in their 70s (relative age) we need to start monitoring their health and taking preventative steps when they reach senior status.

Interestingly, the oldest recorded dog was Bluey, an Australian Cattle Dog, which is a medium sized dog.  Bluey lived to be a staggering 29.5 years old. This just proves that it isn't only the small or toy breeds that can live longer!

Quality care throughout your dog's life is paramount, but keeping an eye out for potential warning signs in your older dog, once he hits these age brackets, is probably the biggest factor to extend his life. 

---
Routine Vet Checks for Senior Dogs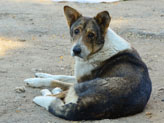 Once your dog is considered a senior (see above chart), you should begin a geriatric dog care routine which is aimed at:
Keeping stresses to a minimum (physical and emotional)
Premature aging prevention
Addressing  special needs of a geriatric dog
You should also start by changing your annual vet visits to twice a year. To get you started, below is a list of tests that you can discuss with your vet.  These are all typical for senior and geriatric dogs:
Routine Tests for Geriatric Dog Care
Physical examination
Dental exam
Urinalysis
Parasite examination
Blood chemistries
ERD Test

My dog, (Hudson, a 90lb German Shepherd) has been having all these tests since the age of six. My vets now have a clear baseline of tests to know what is "normal" for him.  And yes, he has twice yearly vet visits.

---
Kidney Disease and Geriatric Dog Care

Kidney disease is a slow progressive disease that affects many older dogs.  Unfortunately symptoms of kidney disease aren't usually noticed until the kidneys have already been impacted by more than 70%.  At that point you might notice increase in thirst or urine volume but the kidneys will have already suffered a lot of damage.
Kidney Disease

 Symptoms of kidney disease aren't noticed until the kidneys lose approx 70% functionality.

Good news though, you're going to catch this early on if you speak to your vet about the tests (mentioned above).  ERD (Early Renal Disease) is a simple urine test to pick up on kidney failure in the very early stages.  Early detection means they can slow the disease down and extend the life of your dog. Speak to your vet about having this test (and others) done once your dog hits his senior years.
---
Geriatric Dog Care - Warning Signs
OK. So now to the warning signs in senior dogs.  In addition to the twice a year full exam, you should take your elderly dog to the vet immediately if you notice any of the following signs or symptoms.

Excessive drinking and/or urination
Changes in bowel functions (constipation or diarrhea)
Weakness or exercise intolerance
Loss of appetite/Weight loss
Rapid breathing (more than 30 breaths per minute when resting)
Labored breathing or bouts of coughing
Changes to pulse, breathing rate or an increase in temperature
Any new growths or lumps on the body
Bloody discharge from any body opening
Pale gums and/or tongue
These signs and symptoms could be an indication of common health problems in older dogs such as kidney failure, liver problems, cancer, diabetes mellitus, or Cushing's syndrome.  

Don't be too panicked though, it could equally be something less serious, so it is imperative that you get your senior dogs checked out by the vet as soon as you notice any of these symptoms.

---
Finally, geriatric dog care tends to be specific to each dog.  As your dog ages, you'll find that you get a deeper understanding of your own dog and know them better than anyone else, including your vet.  Many vets know this and will acknowledge it, so will frequently rely on your knowledge of what is and isn't usual for your own dogs. 
This is a huge advantage for our dogs.  Trust your instincts, and give your vet as much information as possible if you suspect your senior dog's health is impacted in any way.  After all, no-one knows your dog like you do!

This page is dedicated to the wonderful Max!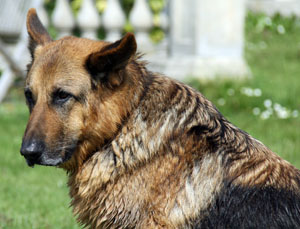 Max was my best friend's 12 year old German Shepherd. Sadly Max passed away December 2011. Max was a sweet boy who was loved by all that knew him.
RIP Max, you're in our hearts forever.

A Tribute to Our Special Senior Dogs
Share your story here!
Do you have a special senior dog in your life? Tell us about your senior dog or post a memorial to that wonderful senior dog you've lost.

It can be as much or as little information that you want to share. Either way we'd love to hear about the special senior guy or gal in your heart.
---
Home

›
Dog Care Tips
› Senior Dog Care
Home

›
Dog Care Tips
› Geriatric Dog Care