Free Puppy Training Tips
To Stop Unwanted Behaviors

 These free puppy training tips can help you enjoy puppyhood, not just survive it!

Got a new fur baby?  Ah bliss!  Erm well, not quite! Now you're struggling with how to stop the biting, house-training isn't going as smoothly as you thought, and how do you get him to stay in the crate....quietly?

If you need help with this (and more) we have answers for you.

---
Click on the below link for specific behaviors to train: 

Training a puppy can be challenging. Left untrained, puppies can learn the wrong things and often cause mischief. Start your puppy on the right path and you can correct unwanted behaviors.  Now, if you already have some behaviors that you need help with, click here.

So, why should you train your pup anyway?  Well, puppies are like sponges, even if you decide not to actively "teach" them anything, you can bet they are still going to learn something.  It just may not be the thing you want them to learn.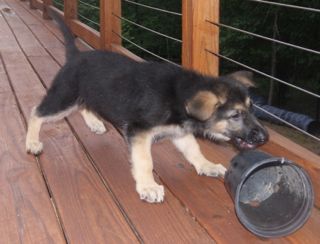 Has your dog learned how much fun it is to chew on shoes? Or, "walking on-leash" means dragging you along with all their might?
Or maybe your dog has learned that whining in the crate means you'll let him out! 
If you don't want this to be the kind of thing your pup learns, then let me help you to train him to do the things YOU want them to do. 

---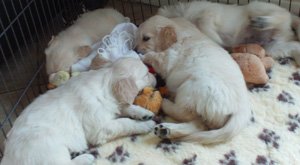 Puppies begin their learning experience from their mother and litter-mates and are well on their way to continuing their education when you first bring them home. 
That's why puppy obedience training should start immediately, it's never too early to start training your puppy.  In fact, the earlier you start, the easier it'll be.

---
Maybe you've already encountered problems with your new pup, or, you just don't know where to get started.  Here you'll find plenty of tips to get you started as well as what to do if it all goes wrong.  Let's face it, it happens. 
You can minimize problems by trying these free puppy training tips at home. Left untrained, puppies often learn bad behaviors. Start your pup on the right path and include puppy obedience training in your dog care routine.

Puppies are wonderful, cute, and funny but they can also be very mischievous and hard work.  If you channel their exuberant energy into training, you will have a much easier time. Training a puppy dog can help you to enjoy their puppy-hood, not just survive it!
Check out Doggy Dan's online training series for some great training tips that you can watch and follow along with.

---
Home
› Puppy Training
---