Marketing and Advertising
For Your
Dog Business

There are many businesses that you can start from home that are dog-related. Whether it be a dog walking business, dog or pet sitter business, pet relocation service, or something else. It doesn't matter which of the dog-related businesses you choose, you will have to invest some time and possibly money into marketing and advertising your new business venture.

Below are some tips on how you can do this economically:

---
Marketing & Advertising

It is a good idea to get some inexpensive business cards and flyers made up to advertise your pet sitter business.

There are many companies that offer this service at a reasonable price as well as software to make your own.
---
Business Cards

Business cards should include:
Your name
Business name
Nature of business (i.e. pet sitter, dog walker, dog day care)
Telephone number
Website address (if you have one, strongly recommend that you do)
Always carry a supply of business cards with you. You never know when you might meet a potential client. Another good idea is to have a car magnet made with your company contact details on. This is great for getting your name out there.
I used to have a lot of people call me after seeing me drive around. Again, they are fairly inexpensive to have made and are easy to put on and take off.

---
Flyers
Flyers should include the following:
Business Name
Your business purpose
Services offered
Telephone number
Website
Your history with pets, dogs, experience, etc., (definitely include if you are trained in pet or canine first aid)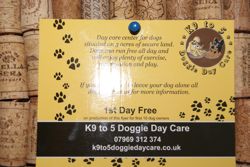 It's a good idea to include a discount coupon for the first visit to entice clients to make that call.
Once you have your business cards and flyers, there are plenty of free options available to advertise your new dog business.
Flyers can be posted at the following locations
Veterinary offices (not just your own vet, ALL local vets)
Pet stores
Animal shelters
Notice boards at recreation parks and other public areas
Kennels & Cattery
Grooming salons
Retirement communities
Get creative with where you can post flyers. Try all local pet-related businesses and hand them out at local train stations and malls. I even ask friends and clients that work locally to post on their work notice boards.
If you choose to have a website for your pet-related business, you can ask other non-competing pet-related businesses to put a link to your website. They will usually expect you do the same in return, but that's OK, and will provide another valuable resource for your clients.
Once you have your pet-related business established, it won't be long before your customer base will expand via word of mouth. Now that you have some cash flow, consider advertising in a local publication to attract more customers.
I found that the local free community booklets were the best avenues for generating new business. They're cheap, handed out on a regular basis (usually monthly), and most households hold onto them for local trade. I know I do.

If your business is focused locally i.e. dog walking business, pet sitter business, etc., don't bother with advertising in a national dog-related publication or magazine. Although the subject matter is specific to dogs, the geographic area is too broad to be worthwhile. It's also much more expensive than local general publications.
If, on the other hand, your business is more national or even international, i.e. a pet relocation service, then a dog-related magazine is a perfect advertising medium for you.
Finally, go to local dog shows. These are great places to hand out business cards, flyers, coupons, and just to meet and chat with the local dog owning community. Don't be shy, tell everyone about your new pet-related business or venture!
Leave Dog Jobs Advertising and return to Home Page