About Dog Care Knowledge
Hi, my name is Sharon and I am the voice, creator, passion, and yes, "knowledge" behind Dog Care Knowledge. 
I talk a lot about dogs, always have, so thought I would tell you a little bit about me for a change. 

I am an avid dog lover and fanatical about dog care.  Right now I have two gorgeous German Shepherd Dogs, Hudson and Ava, and we live in PA with my wonderful husband Mark. 
Hudson is eight years old and Ava is three.  Sadly Hudson has Degenerative Myelopathy (DM) so is now in a doggie wheelchair. I can tell you now, it's a full-time job just looking after him and making sure he is still happy and enjoying a good quality of life.  But I do it because I love him.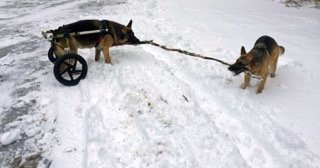 That's one of the reasons I developed this website so that I can be at home for the dogs and still earn an income pursing what I love most.  Caring for dogs. 

Given Hudson's condition, dog care is very important to me and it's also challenging to ensure Ava is kept busy and happy too. 

Ava is full of life and full of beans so we participate in nose work training to keep her occupied and focused.  So far she has passed her Odor Recognition Test (ORT) for Birch and has won her first title in nose work - NW1.  Now the real work begins as we train for Nose Work 2 (NW2) trials and the specialty Elements trials.

OK, I'm back to talking about dogs again aren't I?  Let me get back on track of telling my story....

As I said, I am the owner of www.dog-care-knowledge.com so I enjoy life with my dogs as a small business owner that works from home.  I like it that way as I choose the hours and days I work and I'm always with my dogs. But it wasn't always like that. 

Back in 2009 I was living in England and working at a very busy and demanding job in London.  I only had Hudson at that time who was looked after by my parents while I was at work.  At that time, I longed to spend the days at home with Hudson but didn't think it was possible.  Until, that is, I was made redundant from my job.

While looking for another job, I couldn't help but enjoy the time I had home with Hudson. I also began to dream of ways that I could stay home with him and still earn money.  After much research I decided to open my own doggie day care and K9 To 5 Doggie Day Care was born.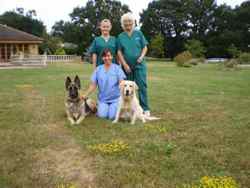 At first I only had two dogs to look after but that quickly grew...and grew... and grew...until, well, I needed to hire someone to help me look after all the dogs.  Thank goodness I found the perfect person in Christine! 

Those early days were gloriously hard work but Christine and I had lots of fun figuring out how to entertain and care for multiple dogs at a time.  Clients were extremely happy as each dog went home worn out and tired........as were we! 

Unfortunately, that came to an abrupt end when my husband's job transferred back to the US.  (I'm British but my husband is American).  So, we were on the move again and I had to leave K9 to 5 Doggie Day Care in the capable hands of Christine, who has turned it into a wonderful thriving business now. 

So we packed up our life, and dog, and flew back to the States.  Now, what was I going to do for a living?  I briefly thought about starting a doggie day care again, but a) I didn't live in a urban town anymore, we were now living in rural Pennsylvania and b) I didn't think I had the energy to start a day care again, with hindsight, it was a lot of hard work.  Now I don't mind hard work but this was the manual labor type that left you exhausted at the end of each day. 

So, back to the research part again I went.  I didn't like the idea of going back to work in an office and besides, this time I didn't have my parents to look after Hudson. So I tried to think of how I could work from home but with less activity!  Research showed tons of "work from home" schemes that promised get rich quick results but research also showed they were a waste of time and money.  And I didn't have either to spare.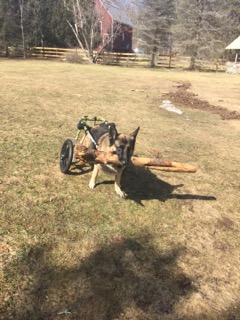 Round about the same time, Hudson had started to show signs of Degenerative Myelopathy and was needing more and more care.  He was losing the use of his back legs, which obviously was a problem all of it's own, but it also meant that one of his more minor issues became a big problem.  Hudson had always had skin issues that would cause him lots of itching and scratching. 

Given that Hudson could no longer use his back legs to scratch, I HAD to do something to relieve his itching fast.  That's when I found the Nature's Specialties range which worked wonderfully for him.  I also found that many other pet parents have similar issues to mine so I decided to write about my experiences. 

I followed the advice put forward by Solo Build It and was delighted that I could actually earn money just by sharing my stories and then eventually by recommending and selling the very products that worked for me.  At last, I had found a way to stay home and care for Hudson and Ava and still earn some money.

Solo Build It was the perfect answer for turning my passion about dogs into a profitable business. I constantly challenge myself to learn as much as I can about dogs, how to care for them, their habits, as well as how to have fun with them.

This site is a collection of my knowledge and experiences that's involved in caring for dogs. I am a dog lover, entrepreneur, and overall problem solver.

Please, feel free to take a look around my site, have a look at my dog care tips and stay up-dated with entries by subscribing to my dog care blog as I will be updating this site on a regular basis.

But most of all, enjoy your dog and come back soon!

And, if like me, you'd like to make money from your passion, hobby, or anything at all you have some knowledge in, they check out Solo Build It.  There's no obligation, they have a free money back trial and you might just find you can earn a little bit of extra money doing what you love, or like me, be able to work full time from home.