Best Dog Crate For Your Dog

When choosing the best dog crate to use for your dog, it all depends on your specific needs for the crate.  Whether you use it for crate training, travel, outdoor use, confining a sick dog, or just for overnight use, you need to ensure you get the right crate for the purpose you intend using it.
 There are many different crates and all of them serve different purposes. Below is summary of the most popular dog crates and my recommendation for which one works best for each situation.

Wire - Collapsible Crates

Wire crates are my favorite type of crate for puppies as well as adult dogs and I think they are the absolute best when crate training a puppy.
Benefits of wire crates are:

Strong and sturdy. Can withstand puppy chewing and are built to last.
Flexible. Can easily flat-pack away so are good for storage and travel.
Adaptable. Can be fitted with a divider so are great for house training growing puppies.
Visibility. Can be viewed from all angles which is good for keeping an eye on your puppy as well as nice for the puppy to be able to see out. Although, it's just as easy to cover over with a blanket if you need to restrict vision.
Easy to clean. The bottom tray slips out so its easy to clean up any mess without having to "get in" the crate.
Some negatives of wire crates:
Not suitable for airline travel.
Usually more expensive than other types of crate.
Some puppies may get paws, tail, etc., caught between wire and cause injury.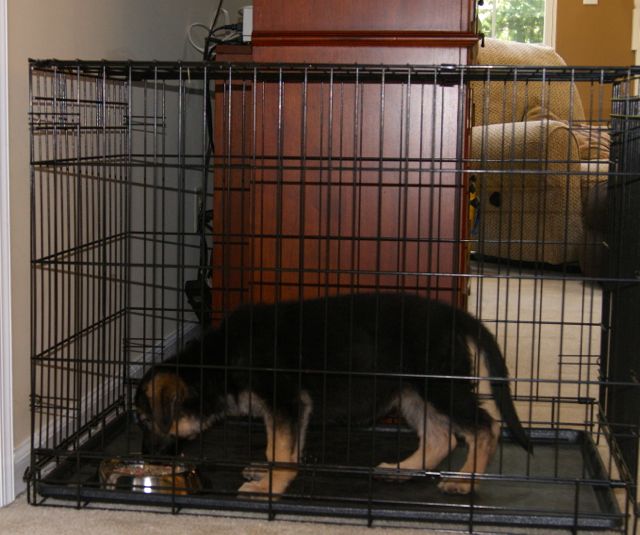 ---
Plastic Crates
There are a wide variety of plastic crates on the market with different options. 
Below are the benefits on the whole:
Suitable for airline travel (although, not all are suitable for airline travel).
Fairly sturdy and usually lighter than wire crates.
Some come apart for cleaning and can be made into a regular dog's bed - again, not all of them do.
Usually less expensive than other crates.
Negatives of plastic crates:
Poor visibility.
Fixtures can come loose.
Not the best crate for puppies as they may chew plastic.
Most don't fold flat for storage or travel.
May have to purchase multiple crates of different sizes to use with a growing puppy.
---
Best Dog Crate That's Made of Canvas

These are not really that good for crate training a puppy as they are not as durable as other crates.
The benefits are:

Usually cheaper than other crates.
Lighter and easy to store.
Easy to travel with, set-up and take down easily.
Negatives for canvas crates:
Not likely to withstand a puppy that likes to chew
Difficult to clean.
Not appropriate for puppies that will grow into medium or large dogs.
Will not adapt for a growing puppy.
As you can see, there are a variety of crates that you can choose from and the best dog crate for you will depend on its purpose. Personally, I use the wire crates for crate training and local travelling but they don't work for airline travel.

Home

›
Free Puppy Training Tips
› Dog Crates

Go to top of Best Dog Crate

Leave Best Dog Crate and go to Home Page

See more Puppy Training Tips