New This Month
---
5 Dog Care Hacks You Need To Know Now!
Plus One FREE e-book
To thank you for subscribing to my free newsletter I'd like to offer you the opportunity of downloading my free e-book -'Natural Remedies To Treat Common Dog Ailments'. It covers issues such as managing the symptoms of arthritis as well as how to treat a wide range of skin disorders, a lot of the time with everyday stuff you'll find in your cabinets.

No obligations, just download, read, and keep as a reference.
Natural Remedies To Treat Common Dog Ailments
You can download your free copy here.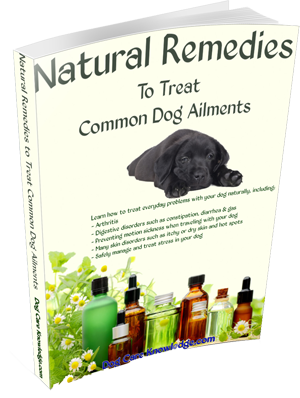 ---
Now, let's get started on these easy to implement dog care hacks that will make owning a dog easier and more fun for both you and your furry friend.
Dog Hack #1
10 Free Puppy Training Tips You Won't Learn in Class
If you're one of the thousands of new pet parents that got a fur baby at Christmas, then you may be struggling with how to train them right about now!

If that's the case, or if you just want help in general with training your puppy, then get a head start on any puppy training issues by learning these simple 10 Free Puppy Training Tips - You Won't Learn in Class.
---
Dog Hack #2
Basic Dog Care: Things I know Now, But Wish I Knew Then
So, you survived puppy-hood and now have an adult dog! Or maybe you rescued an adult dog and need a little help. Whichever situation is you, take advantage of these free essential tips that will help you avoid making costly mistakes.

It provides a variety of solutions to all the common questions I had when I was a newbie pet parent. As an avid dog lover and owner I've learned a lot about dogs over the past 20+ years but I didn't always have the answers - here's what I know now, but wish I knew then!
---
Dog Hack #3
How To Help An Itchy Dog!
Is your dog suffering from dry, itchy, or flaky skin this time of year? I know my dog is, here's how you can reduce the itching with one simple supplement - Salmon Oil.

Supplementing your dog's food with a good quality liquid salmon oil will help to relieve many issues with your dog's skin and coat. It also supports the immune system which helps with allergies, joint problems, inflammation, arthritis, as well as helping to fight other common diseases.

Not all salmon oil is the same though. Choosing the right one for your dog requires research. Luckily we did that research for you here!

---
Dog Hack #4
Dog Skin Allergies! This is a Super Easy Way To Manage Them
Got a dog with allergies? Me too! I've spent years trying to manage Ava's allergy symptoms. Here's how I was able to reduce her symptoms by about 80%.
---
Dog Hack #5
How To Spot and Prevent Excessive Dog Shedding
February may feel like we're still deep in winter but our dogs' coats are already getting ready for the next big shed.

Find out how you can reduce the amount of fur on your clothes and home that also keeps your dog's coat in optimal condition and ready for Spring. Excessive Dog Shedding: How To Spot and Prevent It.
---
Well that's it
I hope these hacks will help you to help your dog and I didn't take up too much of your time.

Please share this email if you think a friend may enjoy it too and remember to follow us on Facebook and Pinterest for all the latest news.
Stay In Touch!
Follow us....
Like us on Facebook
Pinterest
---